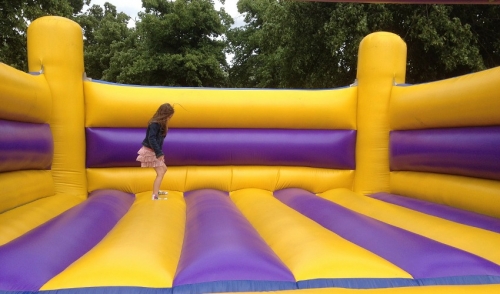 Bounce houses are fun for a variety of events and ages. If you're thinking about getting one, there are a few things that you need to consider before renting:

Types
Nowadays, bounce houses are not just the small inflatables meant simply for bouncing up and down on. Often they can come with interesting themes, as well as different purposes. Want to watch a funny race between your friends? Rent an obstacle course bounce house and watch them struggle though the strange terrain.

Age considerations
If you are strictly going to have smaller children in the bounce house, this should dictate the size and theme of it. Also remember that smaller children might have problems jumping around with bigger kids, so keep that in mind. If you have adults, you will obviously need a bigger bounce house and may consider something more complicated, such as the aforementioned obstacle course.

Location
You will want to make sure that you have a location that's suitable for the size of your bounce house. Be sure to consider overhead wires and the proximity of other nearby objects. For example, you would want to keep it away from a fence to avoid possible injury or damage to the bounce house.

The condition of the ground is also important. Setting up on lush grass is always the best option because people will need to remove their shoes before entering it. Whatever the surface is that you plan to use, make sure to run it by the rental company first to see if they're okay with it.
The bounce house also needs to be close to a power source to ensure that the blower continues operation. If that's not possible you might consider a generator or an extension cord. Remember, flat bounce houses are not fun.

Now that you know a few considerations for renting a bounce house, you can speak more confidently to your rental company about it. They will be able to provide you with information on pricing and delivery, among other things.